OPTIONS
BASE SADDLE
This would come to you complete with the following features:
* Blevin buckles
* Hermann Oak Leather
* Saddle strings or Dee's
* Fully lined flank cinch and billets
* Cheyenne Roll or Streamline Binding
* Stainless steel or Solid brass hardware
* 25 Cord front cinch (SS buckles and D's)
* 3" Bell stirrups - leather bound and laced
* Latigo cinch straps (near and off sides)
* 3" Full stirrup leathers with Blevin Buckles
* Wood - Rawhide saddle tree (your chose of style)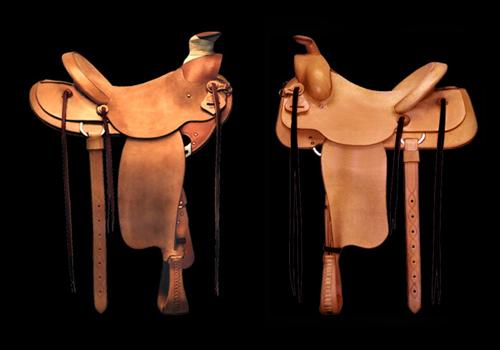 COST
$5,100.00... all prices include GST
A $2,000.00 deposit is required to confirm all orders.  The balance is to be paid before delivery.
Custom Options
SEAT
Full leather, Full padded, Three-quarter padded, Inlaid padded.
FENDERS AND STIRRUP LEATHERS
Shape: Pear or Arizona.  Leathers:  Concealed (standard), Exposed, Hamley twist or Straight.
Fork
Rolled gullet leather, Scolloped gullet, Rope rolled Gullet, Shield gullet (rolled, rope or binder)
Braided Gullet.
CANTLE BINDING
Cheyenne Roll (standard, rope edge or braided), Streamline (standard, rope edge or braided)
SKIRT SHAPE
Round, Medium or Square
HORN
Leather covering (standard), Braided covering, Rope edge, Braided edge.
STIRRUPS
Leather bound and laced (standard), Stitched, Stainless Steel or Brass Bound Moran's
RIGGING
Type: Flat Plate, In-skirt or Double.  Position:  Full, 7/8, 3/4, 5/8 or Centre-fire.
LEATHER AND FINISH
Leather: Grain (standard) or Rough out.  Finish:  Oiled (standard), Dyed, Antique, background dyed.
TOOLING
Border stamped,  Panel stamped or carved (basked/geometric or floral)
Half-Breed (basket/geometric or floral)
Fully tooled ( basket/geometric or floral)
MONTANA SILVER TRIM
Conchos, Corner Plates, Swell Plates, Cantle Plates, Cantle Trim Sets,
Rigging Plates, Horn Caps, Cinch Carrier and Keeper Plates
Call to discuss.